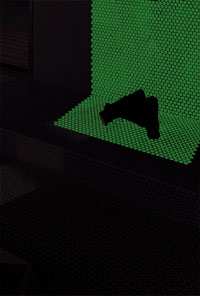 STARLIGHT MOSAIC is a covering material made of milled glass mixed with a phosphorescent pigment and subject to a sintering process. This pigment belongs to a new generation of photoluminescent materials called long-duration phosphorus.
STARLIGHT MOSAIC complies with the specific characteristics of all our glass tiles: resistance to abrasion, thermal shock, ice, acids, stains, water absorption and scratch hardness. The exceptional characteristics of a phosphorescent pigment with a great capacity of absorbing, storing and emitting light must also stand out.
STARLIGHT MOSAIC is highly resistant to weather conditions, therefore suitable for interior and exterior applications such as hospitals, garages, car parks, public transportation stations, stairs, pubs, schools, spas, bathrooms, kitchens etc.
It does not need complementary batteries or power supplies. When exposed to light it recharges completely in few minutes. Excitation and emission can be repeated indefinitely.